I love Friday's!! This is my first time participating in a blog hop but it seems like fun so here goes...
It's MamaM's Five Question Friday....So hop on over to her blog to check it out!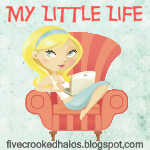 1.What's you favorite line from a movie?
"My mother always said, life was like a box of chocolates, you never know what you're gonna get" - Tom Hanks as Forrest Gump - Forrest Gump.
I like that one and RUN FORREST RUN....
2.What "group" did you belong to in highschool?
Goth, jocks, prep, drama, nerds?
I wouldn't say that I really hung out with a certain type of group. I had friends in all circles..pretty lame I know but I still have friends from all types of backgrounds and financial status. Makes life more interesting that way!
3.If you had $1000 just for yourself, what would you spend it on?
First I would start with a Grande Latte at Starbucks than make my way over to Oasis for a some spa time and than head over to Short Pump for some retail therapy...shoes clothes...oh wait, my $1,000 is gone already!
4.What was your favorite childhood cartoon?
Smurfette - I mean really, do I need to say anymore?
5.What kind of sleeper are? Back, tummy, side, sprawler?
I sleep best on my tummy, that is when there isn't a baby in it...
So there ya have it!!