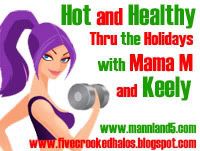 My fellow Mama over at
My Little Life
is hosting an awesome "gig" called Hot and Healthy through the Holidays and I am so In!!! After having four babies I am yes, yes, here it goes....50 lbs over weight. OH MY GOSH! I keep saying I'll start tomorrow and than tomorow comes and I have a stressful day and reach for a piece of candy and since I had one piece I might as well have two and you can guess what happens next....
So here goes friends...I'm IN.....
Go on over to My Little Life and check it out.
Here is the first goal:
The first week's goal (starting today...) is: at least a half hour of cardio 5 days out of the week. If you do more..even better! You can walk, run, jump rope, exercise video's, gym, ride a bike etc...running after the kiddos, however, does not count.
I'll let you all know next Tuesday how I did!