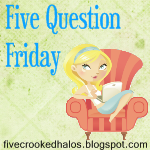 It's Friday! I've got a semi laid back weekend planned. Jake's football team has a bye week before the first big playoff game next weekend so we get a Saturday all to ourselves. Whatever will we do? Oh, I know exactly what I'm gonna do....work on cleaning out the 3rd floor/attic. Ugh, it's a nightmare. Maybe I'll take pictures and blog about it. Ha! That will be a sight! I have a Tastefully Simple Party tonight at one of my friends houses and that is always a ton of fun! Sunday will be a church day and I'm sure some football game will be on that the boys will have to watch. Oh and I did get a 25% off of YOUR ENTIRE purchase at Gap so maybe I'll hit up the mall while they are watching football. Hmmm, the possibilities are endless...
So since it's Friday it's time for
Mama M's
5 Question Friday.... here are the questions and MY answers. Link up and tell me what yours are!
1. What is your dream job?
I would love to own a coffee shop/book store. Wouldn't that be so great to just hang out all day and read and make coffee? OR a scrapbooking store, that would be fun also!
2. What song could you play over and over?
Right now I'm kinda diggin Gracie's Taylor Swift CD - that girl is just the cutest and I think the song that is getting played over and over in the van is "You belong to me" I also LOVE "Somewhere Over the Rainbow" that is a song that we play a lot for Ethan when he is napping and I just love IT!

3. Do you prefer to talk on the phone or text (or email)? Depends on who I'm talking to. I LOVE talking on the phone to my BBFF - we talk at least twice every day. I do like to email/text 'cause it's quick and I just don't have time to be talkin on the phone all day.

4. What is your must have beauty product? Burt's Bees chapstick - need I say more?

5. What is your favorite Michael Jackson song? Billie Jean - takes me back to my childhood. I rocked out the MJ purse and the pleather pants...can't you just picture it? Stop laughing....you had 'em to!
Have a great weekend!